Diposting oleh:




Diposting pada:




Kategori:


Tools & Utilities

Tools & Utilities

Sistem:




Windows Vista, 7, 8/8.1, 10, 11

File Size:




1.2 MB

Lisensi:


Freeware

Pengembang:


Nenad Hrg

Harga:


USD

0

Total Downloads:


99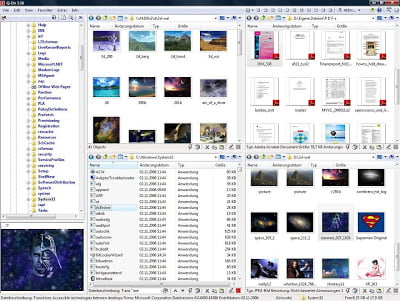 Q-Dir adalah aplikasi yang dapat Anda gunakan untuk mengelola file dan folder Anda, cepat dan mudah digunakan. Anda tidak perlu meninggalkan fungsi biasa, Seret dan Lepas, semua Tampilan, dan fungsi lain dari sistem Anda. Tidak! Q-Dir memberi Anda fungsi bagus lainnya, yang membuat Anda bahagia. Seseorang dapat menghemat banyak gerakan tangan dan juga waktu!
Features
Favorites: – Quick access to most often used folders.
Drag&Drop;: – Move files by dragging in Q-views, and other programs such as MS Explorer.
Clipboard: – Copy/ Paste between the Q-Dir directory views, and other programs such as MS Explorer.
Folder-Type: – ZIP-, FTP-,cabinet-,network-, system – folders, shortcuts …
Views: – Large icons, tiles, list, detail, thumbnail (Vista: extra large symbols) .
Export: – to XLS, CSV, TXT, HTML.
Popup Menus: – Desktop, My Computer.
Screen magnifier: – anything on the screen can be enlarged.
Color Filter: – Different colors for different item types (e.g. *.log;*.txt).
Highlight-Filter: – Effective way for fast items highlighting.
File-Filter: – Allows for quick and easy filtering of the items.
Columns: – All columns support, and save function .
Quick-Link´s: – For fast folder access.
Folder-Select: – Fast & flexible folder selection address-bar/ desktop menu/ my-computer menu/…
Multi-INI: – Several INI files for Q-Dir.
Tree-View: – Simple and quadruple.
Preview: – Allows a quick preview.
Portable: – from 2.77 is Q-Dir portable.