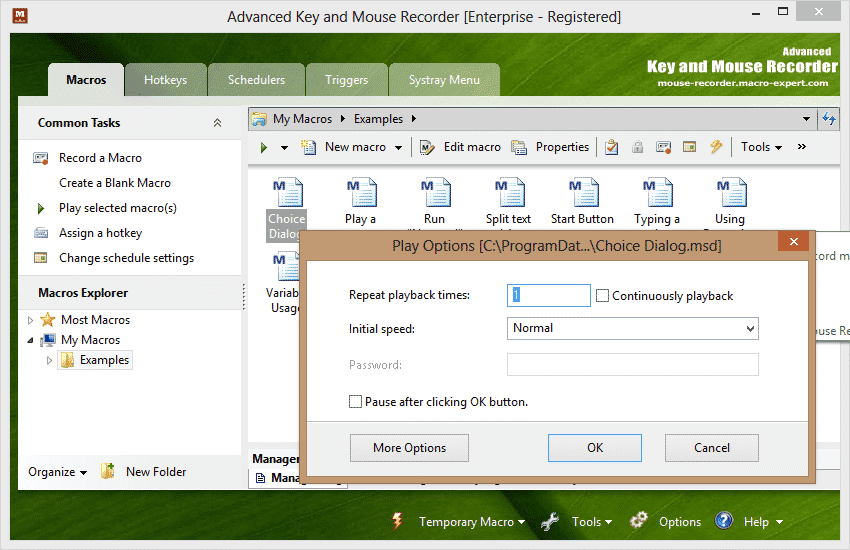 Advanced Key and Mouse Recorder
adalah sebuah program yang sangat berguna sekali, tahukah anda bahwa fungsi dari aplikasi ini yaitu dapat merekam setiap aktifitas mouse dan keyboard yang kita gunakan, contohnya: apabila anda sedang mengetik makalah, proposal, skripsi atau pekerjaan lainnya dengan menggunakan PC/laptop dan ketika suatu waktu file yang anda kerjakan hilang atau terhapus, anda sudah pasti kesal jika melakukan pekerjaan berulang-ulang secara manual, tetapi dengan
Advanced Key and Mouse Recorder
yang terinstall di PC/laptop anda maka anda dapat merekam dan memutarnya kembali dengan kegiatan yang sama.
Features
Ease of use
Scheduler
Trigger
Hot key
TemporaryMacro
Password protected
Scope of recording
Interface colorable
What's New
Added action "Show or Hide Windows on Desktop".
Improved Macro Editor, added the features of adding varialbes automatically, and removing all unused varaibles.
Added global variables "scriptname", "username", and "pcname".
Added the feature of function.
Added math functions, string functions, date functions and logical & general functions.
File Size : 5 MB
Password: www.4ambon.com