Diposting oleh:




Diposting pada:




Kategori:


Audio Editor, Multimedia, Softwares

Audio Editor, Multimedia, Softwares

Sistem:




Tidak diketahui

Harga:


USD

0

Dilihat:


0 views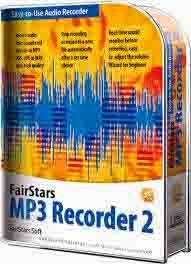 FairStars MP3 Recorder
adalah software yang dapat anda gunakan untuk merekam suara dari berbagai perangkat seperti; merekam suara melalui mikrofon, VCR, tape, dan lain-lainnya kemudian suara yang anda rekam tadi dapat dikonversi menjadi mp3, OGG, APE dan format WAV.
Features of FairStars MP3 Recorder
Record audio from sound card directly to MP3, OGG, APE or WAV format with high quality.
Record sound directly from plackback device(only for Vista / Windows 7).
Real-time sound monitor before recording, easy to select record device and adjust the volume.
Skip silent passages, stop recording or record to a new file automatically after a set time silence (Silent Detector).
Stop recording or record to a new file automatically when reaching a set file length, size or time (File Limitation).
Remove environmental noise automatically with the option Filters Setting.
Support writing of ID3 tag when recording and showing when playback.
Support ID3 tag view, import, edit, or transfer to the file in File List with TAG Editor and Tag Option.
Easy Set feature for silent sensitivity.
Recording Wizard for beginner.
Easy-to-use user-friendly interface, and skin support.
Record control with hotkeys.
Screenshot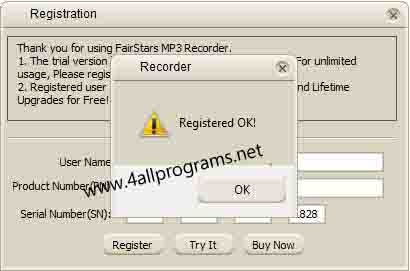 File Size : 2.52 MB